1er pick 5e total
4e CGY Sam Bennett C CAN 6' 0" 178 OHL Kingston
"He plays the kind of game you think cannot be sustained for a whole season because it's a high-energy game and compete game at all ends of the ice. He ends up playing that game for the whole year and has led his team. He just never stops, and put that with the skill package he has and how well he thinks the game, he's pretty much a top-notch player."
A centre-wing with great foot speed, skills and edge. Can score and generate offense, but also forecheck with opposing players shaken when he is coming. In open ice, his acceleration gives him even more respect and he is an excellent one-on-one attacker. He will get stronger and maybe bigger. His compete style and versatility have him on the board as a possible first overall. He was selected to the roster for the World Junior Under-18 Tournament in April, 2013.
2 e pick 62e total
56 BOS Ryan Donato C USA 6' 0" 174 HIGH-MA Dexter School
"Ryan has unreal hockey sense and is really good with the puck. He plays in all situations and is one of those skilled offensive guys with good size. He can play physical in traffic and not be dominated."
Son of former NHLer Ted, and a solid three zone player who works hard each shift. He might be considered an underrated player based on the fact he doesn't have high end separation skills or that explosive burst that teams look for. He combines his hustling fearless demeanor with good vision and off the charts hands, displaying what might be top ten hand-eye co-ordination in the class. Exploits defenses using his instincts and in most games it's difficult to find another player on the sheet with as much heart and intensity.
3e pick 63e total
59 NYR Brandon Halverson G USA 6' 3" 176 OHL Sault Ste. Marie
Tall lean US goalie prospect who is currently the Soo backup. Displays decent agility , took good angles, lateral agility, and stays square and controls the rebounds. Long term goalie prospect who needs more playing time.
4e pick 65e Total
52 STL Maxim Letunov C RUS 6' 2" 155 USHL Youngstown
Tall skinny highly skilled centre with soft hands and finishing ability. Displays a long stride and plenty of quickness. good forechecker who takes pucks back. Works hard away form the puck and is impressively scary down low when he does. Has the frame to fill out nicely with time.
5e Pick 92e total
75 DAL Alexander Peters D CAN 6' 3" 207 OHL Plymouth
Big defender who can play with some physicality. The real positives is that he already skates so very well and fluid for a large man. Has quick feet and can close laterally too. Pivots real well, and have good control while skating, and being able to position himself strikingly fast to chase & defend, or get to pucks and pass them up in transition. Can play hard and strong and battle in the corners and on the wall. At this point, most teams will like what they see, but hope for a bit more of an offensive game.
6e pick 95e total
94 STL Ville Husso G FIN 6' 3" 205 FINLAND HIFK
"This [2013-14] is his breakthrough season. He started as [HIFK's] third goalie but took over as starter in October and has helped his team overcome a tough start. He's big and calm and uses his size to his advantage. He's showed a lot of desire and determination."
Top European goaltender who displays good technique, athleticism, glove and fluid movement. He was selected to the roster for the World Junior Under-18 Tournament in April.
7e pick 155e total
210 LAK Jacob Middleton D CAN 6' 2" 200 OHL Ottawa
Middledon is a big-bodied, two-way defender that has strong mobility and a willingness to jump into the play. He makes heady passes and shows good vision and on-ice smarts. He isn't afraid to add a physical tone to the game, either.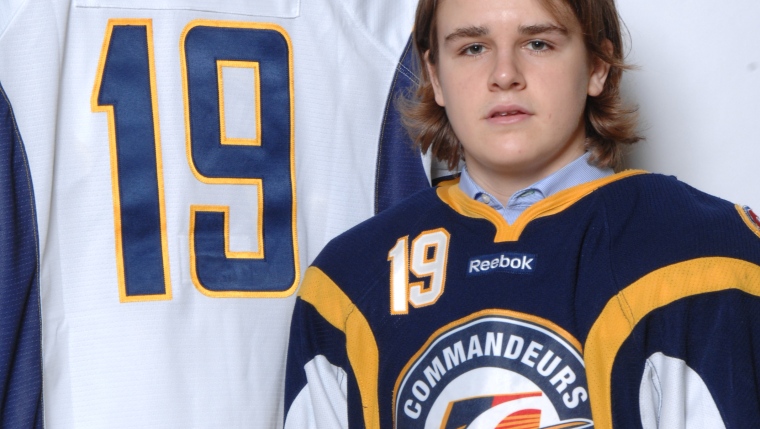 8e pick 185e total
176 STL Samuel Blais LW CAN 5' 9" 164 QMJHL Victoriaville


Sujets similaires
---
Permission de ce forum:
Vous
ne pouvez pas
répondre aux sujets dans ce forum